FENS – Federation of European of Neuroscience Societis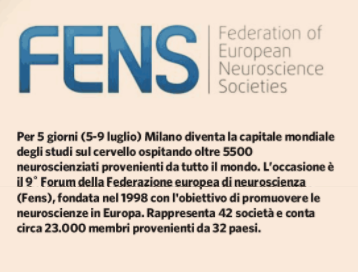 Per cinque giorni, dal 5 al 9 luglio, Milano diventa la capitale mondiale gli studi sul cervello, ospitando 5500 neuroscienziati provenienti da tutto il mondo.
Il 9° Forum della federazione europea di neuroscienza, fondata nel 1998 con l'obiettivo di promuovere le neuroscienze in Europa.
Rappresenta 42 società, conta circa 23.000 membri provenienti da 32 paesi.
Sarà nostra cura raccogliere i risultati più interessanti e darne la più ampia divulgazione.
Per maggiori informazioni, visita il link sottostante:
http://www.fens.org/About-Neuroscience/Calendar/Meetings/2014/07/FENS-Forum/